Bespoke, Handcrafted Secondary Glazing
We specialise in the design, manufacture and installation of aluminium secondary glazing. This involves fitting a discreet internal window that keeps the character of your property and exceeds the benefits of double glazing. Whether you're a homeowner or a commercial developer, find out how we can transform your property with secondary double glazing by calling us today on 01909 499 899
A Message To Our Customers
In light of the ever-changing situation and the advice the Government has issued to date, we can confirm the following services will continue:
– Our main office number, 01909 499 899, is manned by our experienced team, and you will always be able to talk with us.
– Our manufacturing facility is fully functional throughout this time and we are accepting quotation and order requests.
– If you would like to contact us via email, once again we are manning all email addresses throughout this time.
We would like to thank you for your continuing support and we very much look forward to continuing our highest levels of service throughout the coming weeks.
What is Secondary Glazing?
Secondary glazing is a slimline window that is discreetly installed onto the inside of your exiting window. It is designed to increase acoustic and thermal insulation and to offer enhanced security. Each window is made to measure and can be customised to match the style, function and colour of your primary windows. Not just limited to heritage properties and listed buildings, secondary glazing is often installed to give an enhanced performance for single, double and triple glazing.
When you take advantage of secondary double glazing, you enjoy all the benefits that come with an extra layer of insulation over your windows. This cuts down on heat transfer, which means that your home retains heat leading to reduced energy consumption and costs.
If noise entering your home is a nuisance, Granada's range of bespoke aluminium secondary glazing will substantially help. Most homeowners will notice up to 80% noise reduction allowing secondary glazing to create a peaceful, warm and secure home.
Choosing Granada Secondary Glazing
With over 25 years' experience designing and manufacturing bespoke secondary glazing, we ensure the highest levels of quality and very best acoustic and thermal performance. Our range of aluminium secondary glazing is made to measure ensuring all windows fit perfectly and match the design aesthetic of your home.
We expertly design and manufacture a range of styles to complement all property types. Our durable aluminium frames are powder coated in-house where you can choose from over 200 RAL colours. Customising the colour gives you the flexibility to match the interior of your room, allowing the secondary glazing to blend in seamlessly.
Granada Glazing has partnered with a trusted and dedicated installer network that has been selected and trained to offer the best acoustic and thermal solution within your local area. Our trusted installer network can supply and install our products across the whole of the UK. We have helped 1000's of homeowners cure their acoustic and thermal problems where we can do the same for you.
Why Choose Secondary Glazing?
80% Sound Insulation
Secondary double glazing offers the most effective sound insulation – significantly outperforming double glazing. Our windows can reduce noise levels by up to 80%.
65% Thermal Insulation
Secondary glazing improves the thermal insulation of existing single-glazed windows – reduces heat loss through the window by around 65% – around 10% more than double glazing.
Increased Security
Secondary double glazing offers an affordable, discreet, highly effective solution to enhancing building security. No external access is required, ideal for multi-storey buildings.
Secondary Glazing for Homeowners
There are many reasons for homeowners to consider installing secondary glazing from Granada – beginning with acoustic insulation. Secondary glazing will block unwanted noise from close by traffic, planes, trains and other sources of noise.
Homes that suffer from heat loss will see a substantial increase in thermal insulation, secondary glazing installed with a low-e glass can reduce heat loss by as much as 65%. With a range of additional glazing styles we have available, you'll end up with an attractive, unobtrusive finish that is sympathetic to the surroundings and existing window styles.
Secondary Glazing Blocks Noise
Secondary Glazing Adds Value
Secondary glazing exceeds the value of traditional double glazing. In addition to providing outstanding thermal and noise insulation, this style of glazing is also extremely discrete – to the extent that a casual observer would be unlikely to notice its presence at all.
Your home will be warm and quiet with our secondary glazing. This level of subtlety allows historic homes to retain their character whilst taking advantage of more recent breakthroughs in additional glazing. We offer a wide variety of styles and finishes that you can install at your property, ensuring that the finish you choose blends perfectly with the existing design, style and motif that are already in place.
Secondary Glazing For Homeowners
There are many reasons for homeowners to consider installing secondary double glazing from Granada – beginning with thermal insulation. Air-conditioned spaces allow in less heat during the summer, while less heat escapes during the winter. Needless to say, reducing heat transfer through the windows can have a significant effect on your monthly heating and cooling bills. And with the range of styles we have available, you'll end up with an attractive, unobtrusive finish that is sympathetic to the surroundings and existing window styles.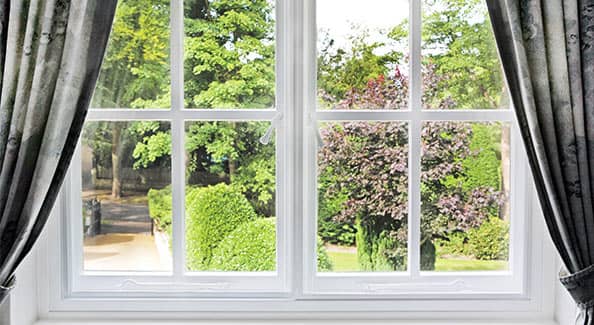 View our Secondary Glazing Colour Range
Traditional White Gloss
Van Dyke Brown Gloss
Black Satin
Cream Satin
Anthracite Grey
Pure White
Choose from over 200 RAL Colours
Retain the Character of your Property
One of the most important benefits of secondary glazing is the fact that it can enhance the technical performance of a property without detracting from its charm or character. By taking advantage of our additional glazing products, you'll also benefit from added security, reduced draughts and 65 percent boost in thermal performance when compared to single-glazed windows. Secondary double glazing will significantly enhance your property.
Contact us for a Secondary Double-Glazing Quote
For more information about the benefits of our secondary glazing – or to discuss our range of high-performing windows – please contact our experienced team. We will be able to discuss your design objectives in more detail and recommend a suitable product.
If you would like secondary double glazing prices, please use our online quote tool. You can use it as many times you like to generate cost comparisons. Granada has the experience to install your secondary double glazing perfectly the first time, so that it adds long-term value to your home.
Need Help Choosing the Right Secondary Glazing?
If you have a question about secondary glazing, and what window type is the right choice for your property, please don't hesitate to contact the Granada team.
Secondary glazing will improve your home's market value as well as this, secondary glazing will create a safer, more thermally efficient and better looking home.
Benefit from improved market value and make your property more attractive to prospective buyers with additional glazing.
Reward your home with more space. If your home, conservatory or extension is too cold or too hot to spend time in, you'll be able to turn it into a functional room once again with secondary double glazing that'll regulate its temperature.
Secondary glazing is durable and discreet, our approved installer network will install your secondary double glazing flawlessly and in such a way that it will add lasting value to your home.
Contact us to find out more and ask us for a free secondary glazing quote.
Frequently Asked Questions
To what extent will secondary glazing reduce the sound pollution in my home?
Correctly specified and installed, secondary glazing will acoustically outperform
all other types of glazing
. It is not uncommon to see secondary glazing where double or triple glazing is installed. To reduce noise levels by up to 80% Granada advise the specification of acoustic glass and an air cavity no less than 150mm – 200mm glass to glass.
Reports indicate that a passing diesel bus often creates 85dB of noise. Correctly installed, Granada's secondary glazing can reduce noise levels by 54dB, a reduction of 54dB will reduce the noise level to 31dB which is the equivalent to a whisper.
How to achieve the best thermal performance?
Draughty windows can make a room feel uncomfortable and will result in higher energy costs as heat is escaping. Secondary glazing, with either 4mm, 6mm or 8.8mm Low E glass, can reduce heat loss by up to 65% and instantly prevent draughts. We often recommend the installation of Low E glass as it has a specifically designed coating that reflects heat back in to the room.
For optimum performance, we recommend that the secondary glazed unit is face fixed to the interior side of your primary window with an air cavity of no more than 80mm. Secondary glazing will decrease the amount of heat loss when installed with single, double or triple glazed timber or uPVC windows.
Here at Granada, we can manufacture our secondary glazed units with or without a hardwood subframe. We advise the installation of a hardwood subframe as this acts as a thermal barrier, preventing the aluminium frame and glass cooling due to the temperature of the fabric of the building.
Please speak with us directly where we can advise which type of glass, product and installation type will yield the best results.
Which Glass type should I choose?
Secondary glazing is normally specified to combat 2 main issues; acoustic or thermal performance. In conjunction with the air cavity, the type of glass specified plays a vital role in rectifying your issue. As standard, all of our products are manufactured with 4mm toughened glass for enhanced security and safety.
(Please be aware that other secondary glazing providers may supply float glass which is brittle and can be easily broken. If broken, it can leave large dangerous shards, often resulting in injury).
Here at Granada, we provide several types of glass ranging from different thicknesses to different coatings. Each type of glass has specifically been designed and selected to offer optimum performance.
Sound – Selecting the correct glass and installing the secondary glazed unit with an air cavity of 150mm to 200mm, can drastically reduce noise issues by up to 80% (54 dB). Most traffic noise problems can be rectified with the installation of either 6.4mm or 6.8mm clear acoustic glass. Where noise is a real nuisance, and loud in nature, we suggest the specification of 8.8mm clear acoustic glass.
Thermal – Cold draughts breaching your primary windows can make a room feel uncomfortable and makes it uneconomical as the loss of heat will result in higher energy costs. Where thermal performance is required, we advise the installation of either 4mm, 6mm or 8.8mm clear laminate low E glass. Low E glass has a specifically designed coating that reflects heat waves back into the room thus keeping your it warm in the winter, and cool in the summer.
The type of glass specified can increase or decrease your quoted price. It is best practice to speak with us directly as you may over specify the glass type. We can provide a tailored solution to rectify your issue which is both cost efficient and practical for your specific requirements.
What does the installation process consist of for secondary glazing?
Secondary glazing is installed to the interior side of the room creating little to no mess. Often installations can be completed within 1 hour. We work closely with over 500 national trade installers who will make an appointment to measure and install at your convenience.
What materials are used for the frames?
As market leaders within the glazing industry, it is important that our secondary glazing is high performing and aesthetically pleasing. The key to our approach is to use the best raw materials available and manufacture to the highest standard possible.
All of our frames are manufactured in house from slimline, durable aluminium. We cut, powder coat, arch and fabricate our aluminium frames in house under one roof. Utilising high tech machinery such as CNC machines, we can ensure all frames are built to size as sealed units.
Our knowledge, expertise and skills in manufacturing ensure a high quality and the best performing product. Our competitors have tried to reduce the amount of aluminium within the frames to reduce the cost of raw materials but we found this has a negative effect on the product quality. Reducing the amount of aluminium does decrease the cost. The implications of this make frames and sashes unstable and unable to take the weight of the glass, creating health and safety issues. This also decreases the acoustic and thermal performance of the product.
Granada's head office holds a team of product developers where they can often be found designing and manufacturing glazing products using new materials and manufacturing techniques. All of our products are quality tested before they leave our facility ensuring a high level of quality and function.
Will I lose the functionality of my windows?
Granada's secondary glazing is available in many styles complimenting all window types. We have a range of windows that slide horizontally and vertically for easy access and cleaning.
Our hinged unit operates on a hinge mechanism that can be placed on the side of the window for conventional opening or on the top or bottom dependent upon your requirements. Other window styles include fixed windows or lift outs which can easily be lifted out of the frame.
Secondary Glazing Prices
Aluminium secondary glazing is the ideal way to help any property achieve its full potential. Even listed buildings can enjoy a more comfortable and secure living space with this installation.
Here at Granada, we're able to accommodate homeowners, commercial and trade customers alike with our excellent service. We offer DIY kits and installations from our professional team to meet your precise needs.
Secondary glazing is an excellent investment for any and all property owners. There is a wide range of benefits that become immediately apparent, and you will enjoy superior performance all year round.
The initial investment of secondary glazing is highly affordable, and this becomes an even better investment when you consider how much you will be able to save on your home or business' heating bills as a result.
For find out more about how much secondary glazing costs and to receive a quote for your competitive secondary glazing prices bespoke to you, we welcome you to contact the friendly team at Granada.
For secondary glazing, talk to us. We look forward to working with you soon.
What Our Customers Say
George in Shrewsbury - Changing the primary windows was not an option, so secondary glazing was the obvious solution to provide the necessary noise insulation.
September 20, 2019
Nicholas in Ickenham - installed secondary glazing in six windows at our grade II listed farmhouse. We are absolutely delighted with the work. Road noise has been eliminated and the secondary glazing fits perfectly as well as looking discreet.
October 14, 2019
Really impressed with the speed and quality of the work. It has made a huge difference to the house.
July 20, 2016
Windows look great, have made a big difference, very polished.
June 24, 2016
Complete process from quote to installation was very smooth. Appointments were always kept on time and goods were supplied as specified. A very professional company fashion.
July 20, 2016
Guests at the Eden Locke Hotel, a design-led aparthotel in the heart of Edinburgh, can enjoy a quiet and comfortable stay thanks to secondary glazing designed and installed by specialists Granada Glazing.
Sensitive restoration of this fine 1790s building in Scotland's capital city has created Mode Aparthotel Edinburgh offering 82 contemporary, stylish studios, one and two-bedroomed apartments.
Granada Glazing's aluminium secondary glazing was specified to attenuate external noise and create a quieter, more comfortable experience for patrons in the 334 individual custom finished guest rooms and 39 new luxury suites.
Request a Free Secondary Double Glazing Quote – 2 Simple Steps
Fixed Secondary Glazing FAQs