Secondary glazing can drastically reduce noise levels for property's that have single, double or triple glazing.
Noise reducing secondary glazing can block external noise pollution by up to 80% which is the equivalent to 54dB.
Leading the fight against noise pollution in the home is Secondary Glazing. Secondary Glazing continues to grow in popularity, in no small part thanks to its unique soundproofing, thermal benefits and draught prevention capabilities. The key to minimising noise levels is to install an extra barrier that sound waves find it difficult to pass through.
To achieve optimum performance we often advise that secondary glazing is installed with a gap of 150mm – 200mm from the primary window. Blinds and ornaments can still be displayed on the windowsill as secondary glazing is slimline and discreet.
All property's can be affected by noise issues, the most affected is listed property's and property's within conservation areas with single glazed timber windows. Secondary can be installed within conservation areas and Grade II listed buildings and is perfect for window noise reduction.
Sound can penetrate the smallest of holes, Granada's secondary glazing is manufactured on state of the art CNC machinery, which ensures a tightly sealed frame. This teamed with correctly specified acoustic glazing will greatly reduce the volume from external sources, eliminating it completely or reducing it to a whisper.
Made from durable aluminium and available in over 200 RAL colours our systems are discreet, functional and come with a 5 year warranty on frames and glazing and a 2 year warranty on moving parts.
Benefits of Secondary Glazing:
Window noise reduction by up to 80%
Easy to Install, DIY or Installed by tradesman
Reduce heat loss through existing window by up to 65%
10% more heat efficient than double glazing
Can be installed within conservation areas
Available in over 200 RAL colours
Arched frames
Delivery 10 days of order
5 year warranty (FENSA warranty of installers)
Frequently Asked Questions
To what extent will secondary glazing reduce the sound pollution in my home?
Correctly specified and installed, secondary glazing will acoustically outperform all other types of glazing. It is not uncommon to see secondary glazing where double or triple glazing is installed. To achieve up to an 80% acoustic performance Granada advise the specification of acoustic glass and an air cavity no less than 150mm – 200mm glass to glass.
The key to manufacturing noise reducing secondary glazing is to ensure the aluminium frames are sealed which prevents noise leaking through any seams or joints. Granada's products are manufactured using state of the art CNC machinery which precisely cuts the aluminium, enabling us to produce a sealed unit. This teamed with the correct acoustic glass, an air cavity of up to 200mm and a high quality installation will reduce noise levels by up to 80%.
What does the installation process consist of for secondary glazing?
Secondary glazing is installed to the interior side of the room creating little to no mess. Often installations can be completed within 30 minutes to 1 hour. To view the installation of secondary glazing please visit our video library web page: VIDEO LIBRARY
We work closely with over 500 national homeowner/trade customers who will make an appointment to measure and install at your convenience. For the DIY market, Granada can supply secondary glazing as supply only where installations videos and what measurements you need to take can be viewed here.
How much does Secondary Glazing Cost?
Secondary glazing is a cost-effective solution to reduce your noise issues. No other form of glazing can reduce noise levels by up to 80%.
Secondary glazing is available in many different styles and levels of functionality. A simple lift out secondary glazed unit can cost as little as £70.00 + fitting. Granada manufactures and installs a variety of secondary glazed units specifically designed for functionality, acoustic and thermal benefits.
Different thicknesses of glass and glass types can be utilised to cure the problems you are facing. The style, type of glass and size of the window will affect the price of the secondary glazed unit. Our trade partners or internal sales team will ask questions based on your application and any problems you are experiencing. This will allow us to recommend a product that is in line with your budget and will exceed your expectations.
Reduce Noise to a Whisper
Do you live on a noisy road? Reports indicate that a passing diesel bus often creates 85dB of noise. Correctly installed secondary glazing can reduce noise levels by 54dB, a reduction of 54dB will reduce the noise to 31dB which is the equivalent to a whisper.
To achieve the best acoustic performance, we advise secondary glazing to be installed with a 150mm to 200mm cavity between your primary glazing and secondary glazed unit. Optimise your window noise reduction with our secondary glazing options.
Today, the technology is certainly with us
Noise is all about our perception and how we relate to it, and acoustic glass can reduce these to a whisper. Secondary windows provide all the thermal insulation and soundproofing that modern living standards demand, whilst preserving the character and appearance of older properties.
This massive impact is certainly not lost on many of the company's grateful customers, with comments such as 'made a huge difference' and 'dramatic reduction in noise' not uncommon. With different noise sources requiring different types of secondary glazing solutions, the task can be a challenging one, particularly when aesthetics and thermal insulation also require consideration, but generally the results make for happy listening.
As pressure grows on developers to build on brownfield sites, near busy roads or under flight paths, the issue of noise pollution has the potential to become a major cause célèbre, whilst home energy assessments have focused the home buying public's attention on to the issue of energy efficiency.
Just 65 dB of noise can be problematic, whilst levels between 70-125 dB can be painful (a passing motorcycle may reach 100 dB), or above that, outright unbearable.
Low frequency noise like these can result in actual vibration of the glazing, meaning the problem can get progressively worse. The general "rumble" of traffic noise, passing aircraft, heavy goods vehicles, buses, taxis, train and railway noise, these tend to fall in the low frequency category. In these instances, secondary glazing with thicker glass, fitted correctly, can make the world of difference.
Granada has cured noise problems for 1000's of homeowners covering all of the UK. Working with our trade partners we can guarantee the highest levels of product quality with exceptional customer service. Please speak with us direct to discuss your requirements where we can advise a product suitable for your application. You can contact Granada by telephoning 01909 499 899 or alternatively click here to email.
Acoustic Performance & Testing
Chiltern Dynamics, market leaders in acoustic testing and modelling, found our products capable of reducing noise levels by over 50db – that's enough to make a passing motorbike sound like a purring cat. It's also one of the most obvious benefits that our residential customers mention to us after we've renovated their home.
High & Low Frequency
Low frequency noise can result in actual vibration of the glazing, meaning the problem can get progressively worse. The general "rumble" of traffic noise, passing aircraft, heavy goods vehicles, buses, taxis, train and railway noise, these tend to fall in the low frequency category. In these instances, secondary glazing with thicker glass, fitted correctly, can make the world of difference.
With a comprehensive product range and portfolio that spans all major sectors, Granada has supported renovations to some of the UK's most iconic, historic buildings. Here, the aesthetics are usually a crucial factor, but noise too has a role to play. Emergency services, power tools and overhead powerlines, these higher frequency noise polluters are from the modern era and not the sorts of things that, even if they had the technology, were around for the architects of yesteryear to deal with.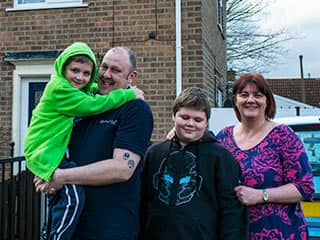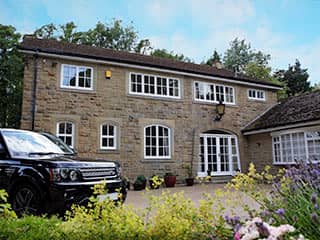 Request a Free Secondary Double Glazing Quote – 2 Simple Steps